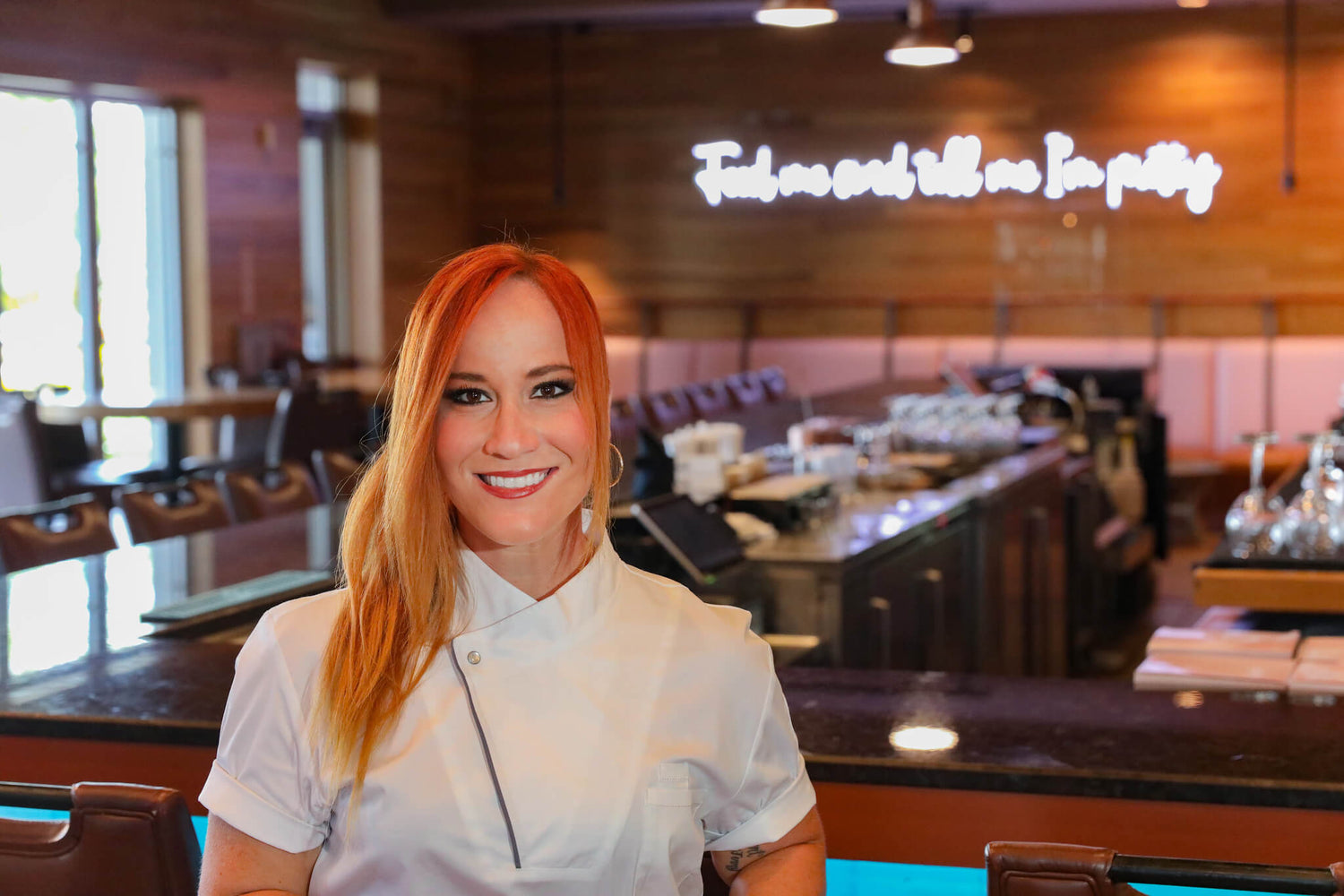 CHEF ADRIANNE CALVO
Hi! I'm Chef Adrianne. For more than 15 years, my life has revolved around bringing "Maximum Flavor" to my restaurants, my cookbooks, and my shows. It has been such a blessing, and here's the crazy part — it was all also an accident!
When I was in high school, there was a scheduling mix-up and instead of the journalism class I wanted, I was put in a cooking class. It turned out to be the best mistake ever. After a visit from the culinary department of Johnson & Wales University, I decided on the spot that I was going to be a chef. It was like I was struck by lightning! I ran home and told my parents that this was going to be the thing I did for the rest of my life. 
At culinary school I wasn't interested in fancy dishes — I was all about maximum flavor. To me, great cooking is all about making something so remarkable that you'll be thinking about it for days, weeks, even years after. I used that approach while competing in culinary contests at school. It paid off then and continues to pay off now. In fact, my prize-winning lamb chop recipe from back then is still on my menu today!
After graduating, I published my first cookbook, Maximum Flavor. At the time I was the youngest cookbook author ever, which landed me a spot on The Montel Williams Show.  When the producers called, I couldn't believe it! I hung up on them three times convinced it was a prank call! 
But just as my professional life was taking off, my personal life was turned upside down. My younger sister Jennifer passed away from a rare form of cancer. I was heartbroken. I gave up on cooking and everything else I cared about. About a year later, I saw an ad for an affordable restaurant space and it sparked something in me. It made me think about what my sister always would say about our time here on earth: "We have to make it count."
So I took the money I earned from my cookbook sales, maxed out my credit cards, and with zero experience, opened Chef Adrianne's Vineyard Restaurant and Bar at the age of 22. Now, if you know anything about the restaurant business, you know we faced some challenges (hello, Great Recession!) but with the help of my family and the dedication of the people in the kitchen, we not only persevered, we thrived. So many years later we're thrilled to continue offering fine dining cuisine inspired by a trip I took to Napa, and proudly serving my line of wine, Napa Valley Cabernet Sauvignon by Adrianne, grown and aged in those same beautiful vineyards. 
As anyone who follows me on Instagram knows, I am obsessed with bringing great food to people's plates. I am always looking for new inspiration — sometimes it comes from the faraway places I visit for my travel show Searching for Maximum Flavor, and sometimes I find it right here in my own kitchen. I love making outrageous waffles and incredible chicken sandwiches for my young staffers at the end of their shifts, and this comfort food was such a hit that it led to the opening of my next restaurant, Cracked by Chef Adrianne. 
I wake up every day hoping to bring joy to those around me through my cooking, whether it's at one of my restaurants or ordering at home through Goldbelly and my new Baked by Chef Adrianne shop, or on my forthcoming Maximum Flavor podcast, where I serve blindfolded guest mystery dishes. And if I can make people happy, and if I can inspire younger chefs who want to do great things in this industry? I feel like I am living up to my sister's wish: Make It Count. 
Adrianne At-A-Glance
Awards
8 Most Innovative Restaurants in Miami, Best Chef for the Floridian Culinary Awards, Miami New Times Best Restaurant, Miami New Times Best Chef, Thrillist's 50 Things to Eat Before You Die, Thrillist's 17 Most Important Restaurants in Miami, Thrillist's Most Influential Restaurants, Zagat's 10 Totally Unique Restaurants in America, Zagat's Top 6 Restaurants Worth a Drive, and Zagat's 9 Most Romantic Restaurants
Philanthropy 
Founder of the Make It Count Foundation, whose goal of making a difference and positively impact the lives of children and teens nationwide. The foundation has aligned with St. Jude Children's Research Hospital (where Chef Adrianne is the Culinary Ambassador), Susan G. Komen, Flippany, Cooking Matters, Leukemia and Lymphoma Society, Easter Seals, and many other great organizations.
Restaurants, Food and Wine
Chef Adrianne's Vineyard Restaurant and Bar
A Family Vineyards Cabernet Sauvignon
Cookbooks
Maximum Flavor Driven by Flavor, Fueled by Fire
#MaximumFlavorSocial 
Play with Fire 
The A List
Shows
YouTube: Searching for Maximum Flavor
Maximum Flavor Vodcast launching January 2024 
Inquiries
Management: mike@gorillamgt.com
PR Contact: Adrianne@Brookspr.com
Choosing a selection results in a full page refresh.
Opens in a new window.